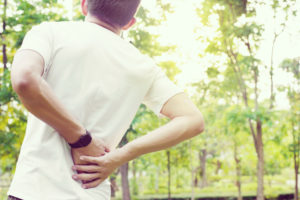 As a 2nd year trainee, I have had limited experience in the field. Also, being limited to mostly non-complex jobs, I take what I can get. I was given an assignment in Brentwood (near OJ Simpson's old home) and, even though my back was a little sore (an ongoing issue), I decided to go. Well, I get to the house which is a corner lot at the top of a steep incline, with the inclined earth side of the home having a very narrow dirt walk (about six inches wide), with a very steep drop beyond.
I measured the home the way I was taught. Rookies at this shop are NOT allowed to laser measure as a sort of "rite of passage." So, as an inexperienced and overzealous rookie, I measured the "cliff" side of the home as well with my tape. To get to this side of the home there was an extremely low gate, about four feet high, with a lock that I did not have a key to (the home was empty). So, like a rookie I eagerly hopped the gate in order to get the measurement. That "hopping" of that low gate kicked my back pain into overdrive, so I foolishly decided to measure this side hastily. This side was about 60 feet long, and right on cue at about 30 feet, my back went out—completely.
Now, if you've witnessed someone's back go out or if it has happened to you, then you may be able to relate. Imagine where your spine meets your waist turning into Jell-O, and every little movement feeling like the nerves in your back are being crushed. Also, when your back goes out, your immediate instinct is to sit or lie down to ease the pain. I had no room to sit or lie down, and every movement, even slight, hurt like heck.
If you happened to be passing by this corner and looked up, you would have seen me trapped in pain, clutching the side of my subject property like a cat, side stepping at a snail's pace. It took about 15 minutes to shuffle 30 feet.
By the time I returned back to the low gate again, I was drenched in sweat. I had to use both hands to lift one leg over the gate and again both hands to lift my other leg over. I got in my car, called the agent to reschedule and as I drove off, I saw a construction crew two houses down on the sidewalk, staring as I passed. One of them could not control his laughter…and at this point I could not control my laughter either.
Two months at a chiropractor and I haven't looked back. I still laugh about how this must have looked.